Using recycled teak wood has both aesthetic and environmental benefits, being a good choice for making interiors in your room, furniture furniture, and home interiors. A number of workshops and even furniture companies make use of recycle or reprocess teak and offer a variety of products of the highest quality. Before utilizing recycled teak wood, workshops or processing companies must know where the source of the wood is, so they can use it to become quality furniture products with long-lasting durability.
In terms of aesthetics, recycled teak wood usually has finer and more beautiful fibers. Historically, people chose old trees for slow growth, very strong wood, darker and even denser colors. Teak that grows on plantations that are harvested earlier, this may be less strong, usually has rough fiber so it looks less attractive. People also choose old and solid wood, most people also prefer teak furniture without finishing, where they want things that look natural or without polish rather than a more formal appearance.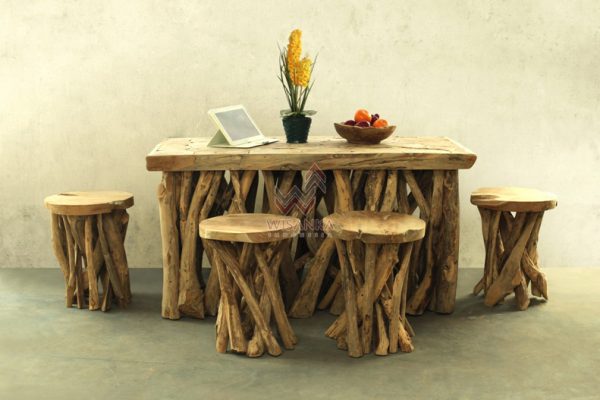 From an environmental point of view, the advantage of recycling teak is that people do not need to cut down new trees to meet the demand for wood for furniture. And environmental organizations are raising concerns about the rampant illegal logging as a source. When people use recycled wood furniture, trees can still grow. This contributes habitat for animals, in addition to maintaining a healthy and clean environment, because trees can also benefit humans who produce natural air and reduce global warming.
Recycle teak wood material may also not be far away to get it, thereby reducing the time spent while traveling, can make products that are more environmentally friendly, because it reduces the use of fossil fuels. Using recycle products from surrounding areas can also create jobs for occupational safety companies, especially to renovate old buildings, save money and improve the economic prospects of the community. By purchasing recyclee teak, it can indirectly save the inherited wood forest environment for our children and grandchildren.
Various Types of Recycled Wood Furniture
Processed wood has long replaced the presence of real which is considered more expensive and increasingly rare. With this processed, people can still display wood elements in the house just like real in general. The types of processed wood that are available also vary so that you can adjust to your needs. Called processed because it comes from the rest of the results of processed real wood which is then mixed with chemicals. It looks brown and made to resemble real, the price is cheaper. Because there are several types, it is better to recognize each processed wood before buying it. Let's see the explanation below.
Plywood
As the name implies, plywood consists of layers of wood sheets which are put together by a high-pressure machine and special glue. The layer forms a board that is cross-linked to be strong. This processed wood has two types, namely plywood when it consists of three rows and multiplex for more than three layers. This type is the most expensive among other processed wood, besides being stronger, this wood is usually also covered by teak bark or sungkai.
Blockboard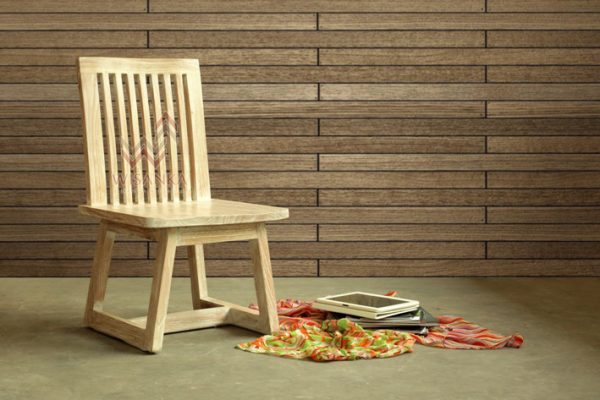 This second type is processed wood with the second highest price after plywood. Blockboard comes from pieces of blocks with a size of 2cm-5cm which is compacted by a machine. Both sides are then given a veneer coating to make it into a sheet of board. The jepara wooden beams used are usually soft pieces of because it's not as strong as plywood. Blockboard has a thickness ranging from 12 mm to 18 mm with the same surface width as plywood. There are two types that are quite a lot on the market, namely teak block (the outermost layer of teak slices) and sungkai block (the outer layer of sungkai). The use of processed wood of this type is widely seen in kitchen set products.
This processed wood is ranked third among the others. This type is made of fine wood or bamboo powder mixed with chemical resins. Then, the powder is compressed with high temperature and pressure until it becomes a sheet of board. High density fiberboard is a denser and stronger version of MDF that is made with a higher temperature. MDF has the advantage that it can be easily cut or shaped because the material is made from sawdust, but its strength is stable. In addition, various finishing can be applied to its surface, such as paper laminate, PVC, HPL, or paint.
Particle Board
Among all processed wood, this type is the cheapest and the lowest quality. Just like MDF made of dust, only for powder particle board that is used roughly and tends to be irregular. The powder is then mixed with chemical resins and then glued together with a high-pressure machine. One of the disadvantages of this type of wood is that it has pores large enough to make it impervious to water. In addition, the burden that can be sustained is also limited because if it is too heavy the will bend. As for finishing, veneer or fancy paper layers are commonly used. This is because the texture of rough sheets makes it unable to be painted.